Dr. Manuel Ochoa Arboleda
Clinica Cardiovascular has a talented group of professionals, dedicated to offering the greatest experience and security in the area of Cardiovascular and Thoracic Surgery in Panama.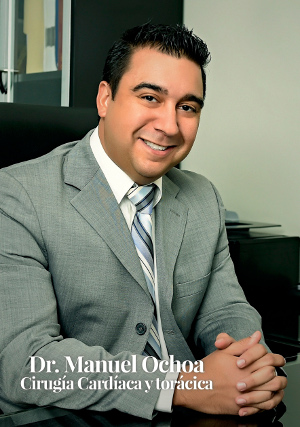 Manuel Ochoa A., M.D., Cardiovascular and Thoracic Surgeon, starts working as a member of Clinica Cardiovascular as of 2011. Offering extensive experience in the area of Cardiac, Thoracic and Vascular Surgery
Manuel Ochoa, M.D., completed his studies at the prestigious Faculty of Medicine of Universidad Autónoma de Guadalajara, Jalisco Mexico, receiving the title of Medical Surgeon. (1994-2000)
Later he is accepted to initiate the specialty of General Surgery, in the Centro Médico Nacional de Occidente of Instituto Mexicano de Seguro Social (CMNO IMSS) in Guadalajara, Jalisco Mexico, one of the most recognized surgical centers at national level, where he had the opportunity to acquire surgical experience and initiate scientific research projects. (2001-2004)
He performed the subspecialty (Fellowship) of Cardiovascular and Thoracic Surgery (2004-2008), at the prestigious
Hospital Especialidades Cardiológicas in Monterrey NL Mexico (HE UMAE 34 IMSS)
, recognized for being a National and International reference center for Advanced Cardiothoracic Surgery, Congenital Heart Disease and Transplantation Cardiac.
Since its beginnings, Doctor Ochoa has shown an affinity for continuous medical education and research. He has been a constant participant in several International Cardiovascular and Thoracic Surgery congresses, endorsed by world-renowned societies such as
Society Thoracic Surgeon
(STS)
European Society for Cardio Thoracic Surgeons
(EACTS),
World Society for Pediatric and Congenital Heart Surgery
(WSPCHS),
Mexican Society of Cardiac Surgery
(SMCC),
Latin-American Society of Cardiovascular Surgery
(SLCC), among others.
He has also had the opportunity to obtain more surgical experience, thanks to several rotations in International Medical Centers, such as:
CS Mott Children's Hospital
(Michigan, USA),
Texas Heart Institute
(Houston Texas, USA) and
Cedar-Sinai Medical Center
(Los Angeles, CA. USA), among others.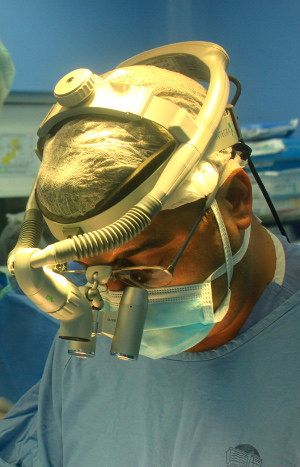 After completing his medical-surgical training, Manuel Ochoa, M.D., returned to Panama City, where he performed his internships to obtain certification as a medical specialist (Caja del Seguro Social 2008-2010), during which he was also a volunteer surgeon with
International Children's Heart Foundation
(ICHF), supporting international cardiovascular missions trips in the surgical management of congenital heart disease.
Manuel Ochoa, M.D. started as an active surgeon of Cardiovascular Clinic since the beginning of 2011, contributing his experience in the management of Cardiovascular and Thoracic pathologies in Panama. It is also part of the Cardiovascular and Thoracic Surgery service of the Hospital Complex of Caja del Seguro Social and the Congenital Heart Disease Service of the Hospital for Pediatric Specialties of Caja del Seguro Social.
During these last years, in addition to offering surgical treatment in highly complex heart and lung surgeries; has been part of several innovative procedures and state-of-the-art programs at the National level, such as:
- First Cardiac Transplant in Panama
- First Bovine Jugular Graft Implant for Reconstruction of the Right Ventricular Outflow Tract in Panama and Central America.
- Placement of Percutaneous Aortic Valve with Ventricular Assist
-Neonatal cardiac Surgery
- Promoter of the Program of Congenital Heart Diseases (Adult and Pediatric) of the Hospital Punta Pacifica (HPP) and Hospital of Specialties Pediatric of Caja del Seguro Social.
- Hybrid Management in the Treatment of Complex Aortic Dissection.